The Ultimate Warrior: Lara Croft
|
home


Jolie Bio

Angelina Jolie comes from a family rich with acting and fame.
Angelina was born, Angelina Jolie Voight to Oscar winner Jon Voight and actress Marcheline Bertrand. They chose the name Jolie because it could be used as a last name if she chose acting or didn't want her famous dad's last name. Her parents divorced when she was just a baby and Angelina and her brother James Haven (Voight) were raised mostly by their mom.

Angelina Jolie made her movie debut at age five in a film with her dad,
Looking To Get Out
. The talented youngster enrolled in the Lee Strasberg Theater Institute at age 11, and continued her career into her teens with professional modelling and music video shoots.
Eventually, she did film studies at New York University, but soon gave up on school and began working with the Met Threatre Group in L.A. By 1993, Angelina had decided to pursue acting full time.
She got her big break in 1995's cyber-thriller Hackers, where she met her first husband, actor Jonny Lee Miller (Trainspotting.) The couple divorced in 1999.
Angelina Jolie met actor/director Billy Bob Thorton when she starred as his on-screen wife in 1999's
Pushing Tin
. They tied the knot in Las Vegas in May of 2000. Unfortunately, their divorce was finalized in 2003.

It was her role in
Girl, Interrupted
that planted her firmly in the spotlight. But with fame, also comes the scrutiny of the public eye. Jolie has been the center of many rumors; some with basis, some not. Regardless, she certainly can raise eyebrows. She just wouldn't be Jolie if it were any different.

Update: Most importanly though, she's now a mother and is showing a distinctly softer and more self and world-aware persona. Currently however, she's getting prepared for a possible legal battle as it turns out her adopted son, Maddox, may have not been an orphan... but rather was purchased from his mother by the agency Jolie got him through. I'll keep you posted, but we wish them both the best.
If at all interested, please look at the bottom of the page to see a letter I've been attempting to get to Jolie, might give you some idea of what kind of fan I am.. and who knows.. she may find it while browsing the web :P
Vital Stats:
Name: Angelina Jolie (Voight)
Profession: Motion Picture Actress
Birth Place: Las Angeles, CA
Birthdate: June 4, 1975
Current age: 27 years
Marital Status: Divorced from Billy Bob
Height: 5'7"
Weight: 120lbs
Eyes: Hazel
Hair: Dark Brown
Measurements: 36-25-35
Filmography:
- Sharkslayer (2004) (voice) .... Lola
- Tomb Raider 2 - The Cradle of Life (2003) .... Lara Croft
- Beyond Borders (2003) .... Sarah Jordan
- Life or Something Like It (2002) .... Lanie Kerigan
- Original Sin (2001) .... Julia Russel
- Tomb Raider (2001) .... Lara Croft
- Gone in Sixty Seconds (2000) .... Sarah 'Sway' Wayland
- AFI's 100 Years... 100 Stars (1999) (TV) .... Herself
- Girl, Interrupted (1999) .... Lisa Rowe
- Bone Collector, The (1999) .... Amelia Donaghy
- Pushing Tin (1999) .... Mary Bell
- Playing by Heart (1998) .... Joan
- Hell's Kitchen (1998) .... Gloria McNeary
- Gia (1998) (TV) .... Gia Marie Carangi
- Playing God (1997) .... Claire
- George Wallace (1997) (TV) .... Cornelia Wallace
- True Women (1997) (TV) .... Georgia Virginia Lawshe Woods
- Mojave Moon (1996) .... Eleanor "Elie" Rigby
- Love Is All There Is (1996) .... Gina Malacici
- Foxfire (1996) .... Margret "Legs" Sadovsky
- Without Evidence (1995) .... Jodie Swearingen
- Hackers (1995) .... Kate Libby ('Acid Burn')
- Cyborg 2 (1993) .... Casella "Cash" Reese
- Lookin' to Get Out (1982) .... Tosh
And my personal favorite picture of her.. not that there are any bad ones: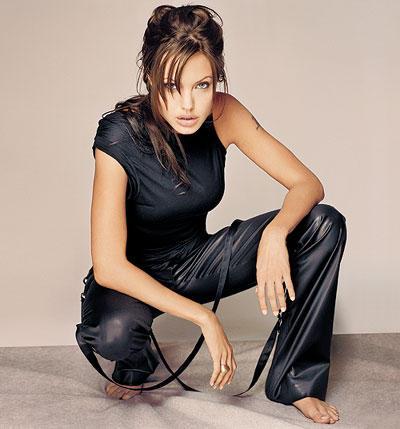 Dear Angelina,
I originally wrote this letter to the staff at the View just prior to your last appearance there. Not sure if it got to you, so if it looks/sounds familiar, I apologize. At any rate, for whatever illogical reason, I wanted you to see it. Perhaps it is because I know so many of your fans feel the way I do, but never get to share it with you.
In the original letter, I basically described how I was a huge fan of yours… not the kind of fan that will buy a piece of your used gum on eBay, but rather, the kind of fan that is moved by your art, awed by your talent, and inspired by your life. I said that too often you are described, or treated, as that crazy, "out there" woman in reflection of various activities from self-cutting to vials of blood. When speaking of celebrities, it's amazing how quickly the media and the populace forget that any life can be dissected negatively.
I basically asked that, for your sake and the sake of your fans, the questions they posed to you went beyond the typical "shock value" façade. What are your dreams? What drives you? Etc. Seldom do people ask you those questions, and I know it's sadly all about ratings, but something of substance would be nice. But I digress.
To avoid rambling further, I'll get to what I want to share with you. I want to tell you that you are the quintessential role model, whether you see yourself as such or not. You have shown a true capacity to overcome and persevere. You are the kind of person who lives each moment with the intensity of a lifetime. When you live like that, you are bound to reach the highest highs, but also the lowest lows… but what I love most is that you makes no apologies for the things you have lived, said, or done. It is refreshing to finally see a celebrity comfortable enough with who she is that she doesn't shroud her life with a P.R. haze. You so openly discuss things most are terrified to: depression, sexuality, family, and so on. I can only encourage you to continue to do so. From the fan's perspective, your openness and honesty is truly inspiring.
It is that kind of no-nonsense honesty that is so endearing and speaks vastly about your character. And it is that character that makes you a wonderful good will ambassador. I can only hope you will continue to travel the world, and share your experiences with those of us who cannot afford to or who do not have the opportunity. You have such an obviously kind soul, and I'm happy you are using it in such a meaningful way.
When I sent this letter originally, I stated that it was not my hope that this would be read on-air and I did not care about my name being said on-air. This was about a person trying to get a message to someone who inspires them. You are a star in every sense of the word - a celebrity with the capacity to shine a little light in this world. Speaking for all the fans, we wish you and Maddox (and the other children you are planning to adopt) peace, love, and safety in your adventures in life and journeys of growth. I can only imagine how awkward it is to have fans gush about you, but it`s simply that we are so awed by you we don`t know how to describe it without sounding a little off-center… if that makes sense. I mean, some of us are sincerely inspired and awed by your talent but mostly your spirit. To summarize, as a fan, I adore you; but as a person, I simply admire and respect you.
Sincerely and Best Wishes,
Carol Lorton
PS: I hope you continue with the Tomb Raider franchise. As an avid player of the game, I can say they could not have picked a better lead actress for the role. In many ways you embody that character. In the meantime, I'll be catching your other films and reading some of those UN journals I've been awaiting.