The Ultimate Warrior: Lara Croft
|
home

Latest News

Date: 06/18/16
The Ultimate Lara is back! No, I don't just mean the game.. Legend.. which kicks major butt.. but this site is now officially re-opened for business.
Date: 07/04/2004 (source: Eidos PLC)
Tomb Raider 7 update
Following Eidos' mid-year financial report last month, it has revealed a number of intriguing upcoming games for its fiscal year 2005, including the new 7th Tomb Raider game.
Eidos CEO Mike McGarvey has briefly commented on the new Tomb Raider video game, currently under developed by Crystal Dynamics, during the bi-annual trading update prerecorded conference call.
"We saw a new version of Tomb Raider for the first time last week at our development meeting and we were extremely impressed with the progress that's been made so far," said Mike McGarvey.
"We're still doing a lot of market research, in terms of direction of the content and the character, but the fundamental technology is already complete and the character is up and running in the environment with new moves and new control systems. So we're extremely encouraged to see that progress. We're not in a position right now to articulate the creative direction of the franchise. It's still a little early. But we're certainly very excited about what we've seen so far."
Date 03/18/04
Jolie says no to another Tomb Raider:
According to several interviews (Coming Soon and On Air with Ryan Seacrest), Jolie is done with the franchise. We'll keep you updated with anything new concerning the future of Raider cinema.
-------------------------------------------------------
Eidos: release new TR:AOD patch
After the release of the first patch in July 2003, Eidos has released a new patch for Tomb Raider: The Angel of Darkness.
Fix list (version 49):

Save game time are now in local time and not GMT.

Fixed Lightning effects in final battle and hanger.

Added build version to start screen.

Changed conversation to use action key.

Multisampling and post process are no mutually exclusive. (Only possible with DX9.0a or higher)

Stopped ammunition decreasing too fast.

Added key remapping for cycle weapons.

Stopped quick-save from producing empty filenames.

Fixed incorrect lighting on staticly lit animated objects.

Stopped failed controller profile from removing existing profiles.

Added user clip plane support to projected shadows.
Date: 07/30/2003
Eidos announces that its next Tomb Raider game will be developed at its US-based Crystal Dynamics studio.
In a press release concerning the recent release of Tomb Raider: The Angel of Darkness and the fact that all but 500,000 copies of the game were shipped in Eidos' last financial year, the publisher has today announced that development of the Tomb Raider franchise is to be transferred to its Crystal Dynamics studio in the US. The next Tomb Raider game is currently scheduled for release during the financial year ending June 30, 2005, and, in light of today's announcement, Eidos has stated that it will be evaluating Core Design studio's ongoing direction and contribution as part of the group's overall development capabilities.
Today's announcement follows an eventful month for Tomb Raider: The Angel of Darkness, which has seen the game released more than six months later than originally planned with bugs and glitches still present, the departure of Core Design cofounder and managing director Jeremy Heath-Smith, and, more recently, the game being blamed for the poor box-office performance of Tomb Raider: The Cradle of Life.
-- GameSpot
Date: 07/29/2003
Producers of the movie Tomb Raider: The Cradle of Life blame the game Tomb Raider: The Angel of Darkness for the film's poor box-office performance.
According to a Reuters report, Paramount Pictures believes that Tomb Raider: The Cradle of Life's relatively poor box-office performance ($21.8 million in its first weekend) is due to the reception of Eidos Interactive's Tomb Raider: The Angel of Darkness game, which was released on the PlayStation 2 and the PC. "The only thing we can attribute that to is that the gamers were not happy with the latest version of the Tomb Raider video game, which is our core audience," Paramount distribution president Wayne Lewellen told the news agency.
Date: 07/01/2003
The game is HERE! The PS2 and PC versions are on the shelves in the US. If you don't have yours yet, order it now! Despite some of the glitches, TR fans are raving about it on several of your favorite messageboards.

(click links/buy buttons to purchase)
Amazon.com:

And just after you dive into your game, get ready for the Movie release on July 25th.
~~~~~~~~~~~~~~~~~~~~~~~~~~~~~~~~~~~~~~~~~~~~~~
The Ride:
TOMB RAIDER THE RIDE
Kings Island, Ohio - You've played the games. You've seen the movie. Soon, you can take the ride. Paramount Parks, a unit of the Viacom Entertainment Group, announced today plans to transform this summer's epic adventure, Paramount Pictures' "Lara Croft: Tomb Raider," into a unique, multi-sensory adventure ride. TOMB RAIDER: The Ride will open in 2002 at Paramount's Kings Island near Cincinnati, Ohio.
The Paramount Pictures feature film is based on the wildly popular Eidos Interactive, Inc. action games: Tomb Raider, Tomb Raider II, Tomb Raider III: The Adventures of Lara Croft, Tomb Raider: The Last Revelation, and Tomb Raider: Chronicles. Since its debut in 1996, Tomb Raider and its heroine, Lara Croft, have become a worldwide phenomenon. With total sales of the action games reaching 25 million units worldwide, each game has topped the PlayStation game best-seller lists. The recent Paramount Pictures feature film had an explosive $48.2 million mid-June opening-weekend box office gross giving it the title of best debut ever for a film based on a video game property.
On TOMB RAIDER: The Ride, adventuring guests are in for an experience unique to the theme park universe that is filled with all of Lara Croft's real passions: raiding tombs, besting bad guys and one extreme adventure after another. The excitement begins with a journey into a foreboding ancient temple. As stone walls give way to others, guests will proceed through mysterious chambers, engraved with strange, runic symbols and the debris of failed expeditions, as a sense of impending doom grows. With only seconds to spare before certain calamity, guests strap in to the only possible vehicle of escape. Playing off scenes from the motion picture filmed in Cambodia and Iceland, the escape will include rocketing upward for a close encounter in an ice cave with menacing, razor-sharp stalactites and a face-first plunge straight down toward a pit of boiling, red-hot lava.
"Part of the thrill of the Tomb Raider property is the mystery and intrigue that surrounds each adventure. We want to preserve this mystery with the Tomb Raider ride until the first group of adventurers braves it in 2002 - so, we aren't going to disclose all of the surprises in store for riders," said Tim Fisher, executive vice president and general manager of Paramount's Kings Island. "But this attraction will change the face of thrill ride history and become one of the greatest adventure rides in the world."
In making the announcement, park officials unveiled a dramatic 42'x 28' in-park display featuring actual props used in the filming of the motion picture. Members of the project team visited the soundstages at Pinewood Studios outside London, England and hand-selected key props to use throughout the ride experience. Some of these props are a part of the display located at the base of the park's signature Royal Fountain and Eiffel Tower attraction. The movie props on display throughout the summer include:
· The impressive six-armed Brahma statue, known as the Warrior Goddess Durga, featured in the Cambodian tomb
· The evil stone monkeys that are mobilized in the Cambodian tomb raiding scene "It is our intention to bring the excitement, adventure and technology of Tomb Raider to life in a stunning multi-dimensional experience. Ensuring the authenticity of this experience is of the utmost importance to us," Fisher said. "We want guests to feel like real tomb raiders from the moment they enter the attraction."
TOMB RAIDER: The Ride is currently under construction in the Rivertown section of the 364-acre theme park. All will be revealed in 2002 when the park expects to unveil the new attraction.
Paramount's Kings Island is owned and operated by Paramount Parks. Paramount Parks, a unit of Viacom, Inc., is a leading developer and operator of regional theme parks and location-based entertainment attractions. The company currently manages: Paramount's Kings Island (Cincinnati, Ohio); Paramount's Kings Dominion (Richmond, Va.); Paramount's Great America (Santa Clara, Calif.); Paramount's Carowinds (Charlotte, N.C.); Paramount Canada's Wonderland (Toronto, Ontario, Canada); and Star Trek: The Experience™ at the Las Vegas Hilton, (Las Vegas, Nev.)
Viacom is the No. 1 vehicle in the world for advertisers, with preeminent positions in broadcast and cable television, radio, outdoor advertising and online. With programming that appeals to audiences in every demographic category across virtually all media, the company is a leader in the creation, promotion and distribution of entertainment, news, sports, and music. Viacom's well-known brands include CBS, MTV, Nickelodeon, VH1, Paramount Pictures, Infinity, UPN, TNN, CMT, Showtime, Blockbuster, and Simon & Schuster. More information about Viacom and its businesses is available at www.viacom.com.
Eidos Interactive, Inc. is a leading developer and publisher of interactive entertainment products for the PC, PlayStation® game console, PlayStation2 game console, Sega Dreamcast™, and Nintendo® Game Boy® Color. Eidos Interactive is part of London-based Eidos plc (NASDAQ: EIDSY) with offices in San Francisco, Paris, Hamburg, and Tokyo.
qrqrqrqrqrqrqrqrqrqrqrqrqrqrqrqrqrqrqrqrqrqrq
Angel of Darkness:
A new Lara Croft for a new generation. Eidos Interactive and Core Design announce the return of the world's most famous video game character in Lara Croft Tomb Raider: The Angel of Darkness. The game will be released on PlayStation 2 and PC towards the end of 2002.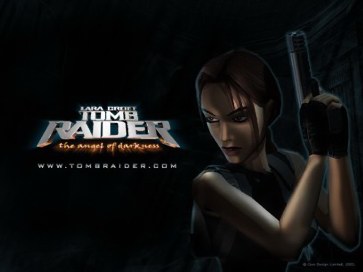 Lara Croft Tomb Raider: The Angel of Darkness is classic Lara as both hunter and hunted relying on her ingenuity, athleticism and a new edge that has arisen from her dark inner demons. However, this time she faces more evolved characters and situations, calling for more involved decision-making. Lara now has the ability to interact with characters and the choice of which path to take. Upgrading her trademark style and look and dropping her into a bombshell scenario calls for a new resourcefulness making her a stronger and more complex heroine.
Adrian Smith, Operations Director at Core Design says, "Our vision is to take the player somewhere dark, a place they might not necessarily wish to go, but a place they will have to venture if they are to bring Lara back. Lara will have some tough moral choices to make. It's no longer a clear-cut case of good versus evil - this is a more complex tale, which will ask more complex questions of the player. It will be a new experience for people who have played Tomb Raider in the past."
The game employs a brand new engine built from the ground up to fully utilise the power of PlayStation 2 and the latest PC graphics cards. Lara is now made up of over 5,000 polygons as opposed to just 500 in previous Tomb Raider games. She must traverse an intricately detailed world, which takes her from the back streets of Paris to the hellish depths of Prague.
Lara has changed since her experiences in Tomb Raider: The Last Revelation. She has become darker, harder, less tolerant and her tomb raiding days are a distant memory. A desperate phone call from her former mentor Von Croy leads her to Paris. Von Croy has been asked by a sinister client, Eckhardt, to track down one of five 14th century artworks - the Obscura Paintings. She arrives in Paris to find a city in fear. Von Croy has been the victim of a horrific murder and framed for the crime, Lara has no option but to go on the run.
During her exploits Lara encounters a kindred spirit in Kurtis Trent, a hardened adventurer like herself, who is in pursuit of Eckhardt. In her struggle to unravel the trail left by Von Croy, Lara becomes involved in underworld deals, grotesque murders, the dark side of an advanced form of alchemy and a history of blood, betrayal and vengeance spanning across hundreds of years. qrqrqrqrqrqrqrqrqrqrqrqrqrqrqrqrqrqrqrqrqrqrq