The Ultimate Warrior: Lara Croft
|
home


News

7/26/2003
Back to the 'Tomb'
Angelina Jolie returns, with a new director, for a second outing as Lara Croft
By Joshua Mooney
Entertainment News Wire
NEW YORK -- Two years ago, "Lara Croft: Tomb Raider" promised a new kind of action-adventure film -- one with a strong, iconic female lead.
Sure, it was based on a video game, but expectations were high. After all, Lara was played by that Oscar-winning firebrand of an actress Angelina Jolie.
When the film came out, critics were less than thrilled. "Lara Croft: Tomb Raider" was far too much like a video game, they opined, with a thin story and an abundance of silliness.
But those same critics agreed that Jolie was born to play a sexy, butt-kicking action hero. And what do the critics know anyway? "Lara Croft" grossed nearly $300 million worldwide.
So a sequel was inevitable. Wasn't it? Not according to Jolie, who seems to agree with the critical assessment of the film.
"I thought I definitely wasn't going to do another 'Lara Croft,' because I was unsatisfied with the first one," Jolie says bluntly.
She says this while meeting the press to discuss the new "Lara Croft Tomb Raider: The Cradle of Life." How did she go from "definitely not" to "here it is"?
"I was promised that I could make adjustments this time," Jolie says, "and I was shown scripts where the writers had made strong choices. I thought it was a really solid adventure this time. I thought we had the chance to do it right. I don't like to leave things unfinished."
Simon West, the director of the first "Lara Croft," was not involved in the sequel. He's been replaced by action auteur Jan De Bont, who has helmed such blockbusters as "Twister" and "Speed."
It's worth noting that both of those films sported strong female lead characters. In fact, De Bont helped solidify the star status of "Twister's" Helen Hunt and "Speed's" Sandra Bullock.
De Bont says he wanted to direct the first "Lara Croft." "I loved the video game and thought Lara was a fantastic character for a film franchise," he says. But he doesn't think much of the way the first film turned out either. "It was too cartoonish and one-dimensional for me."
De Bont says that when he first met Jolie to discuss the project, there was some head-butting. "We're both strong-willed people," the Dutch filmmaker says with a chuckle. "And she was very protective of Lara. And I was very strong in regards to where I wanted to take her. But ultimately we had the same goal: to make a better 'Lara Croft.' So we slowly got together."
Jolie, 28, doesn't quite remember it that way. "I wasn't so protective," she insists. "I had lots of specific things I wanted changed. Like her body -- I wanted her to be a little less video vixen, a little more of a lady. Closer to a real woman. But most importantly, I wanted her to have some character. I wanted Lara to be challenged and to make decisions. I wanted to find out what she was made of."
What Lara Croft is made of, says De Bont, is primarily Angelina Jolie. "Lara's attitude, her rough edges, that's Angelina. You can't act that. You have to have that. And she does."
"Lara Croft Tomb Raider: The Cradle of Life" turns out to be a sequel that improves on the original. That's thanks to De Bont and Jolie, to a stronger story, and to a sterling cast, including Gerard Butler, Noah Taylor, Ciaran Hinds and Djimon Hounsou.
This is not to say that "The Cradle of Life" is some kind of contemplative, thinking-person's action-flick-based-on-a-video-game. It's carefully crafted summer escapism with an appropriately high-concept plot. Simply put, famed tomb raider Lara Croft is racing to find that notorious repository of evil, Pandora's Box, before it falls into the hands of the brilliant mad scientist Dr. Reiss (Hinds) who, like most of his ilk, wants to take over the world.
The film is full of intense, mind-blowing action sequences -- a De Bont specialty -- as well as more exotic scenery than you're likely to see anywhere else this summer. De Bont and his cast and crew roamed from Hong Kong to Greece to Wales to Africa and beyond while shooting the film.
The powers that be at Paramount Pictures weren't exactly thrilled about his globetrotting, De Bont says. "The studio will fight you. Because it's not cheap and so many things can go wrong." For example, the "Tomb Raider" production team ended up building its own airstrip at one remote locale in Africa.
There's an easier way to make a film, De Bont admits, but it is not for him. "You could do some of these scenes in the computer, but it's not real. I always liked movies that took you to exciting locales. And they don't do that anymore. I'm happy to be able to. To go to the top of a live volcano with cast and crew -- the studio didn't want us to go there, but we were able to. That's amazing. Magical. And the actors love it."
One of the film's impressive action scenes features stunt-doubles leaping off the 84th floor of Hong Kong's unfinished International Financial Center. Jolie, who has a reputation as a bit of a wild child (after all, she collects knives and tattoos, and was once married to Billy Bob Thorton) wanted to try the death-defying leap herself, says De Bont.
"There are times when you have to say no," he says. "She had some skydiving experience and wanted to make a jump. I said, 'No way that's gonna happen. It'd be the end of my career, your career, the whole movie. Forget it! It's 84 stories high!'"
"I just feel that if you have the opportunity to learn these skills, it's a great chance to use them," Jolie says with an shrug. "I'm an adrenaline junkie. But also, if you take this woman's name and pretend you can play her, you should be able to back it up with some physical daring."
Jolie had to content herself with kickboxing, jet-skiing, horseback riding and firearms training in what she describes as "sort of an army/circus-type of boot camp."
Jolie's offscreen life doesn't sound much less intense than Lara Croft's on-screen exploits. Jolie's packed a lot of living into her 28 years. Her public estrangement from her father, Oscar-winning actor Jon Voight, has made headlines. So have her two failed marriages, first to actor Johnny Lee Miller and then to actor/filmmaker Thornton.
Jolie and Thornton adopted a Cambodian baby boy named Maddox, and now Jolie is raising him at her home base in London, her new spread in the jungles of Cambodia, and on film locations around the world. She'll probably remain single, the actress says: "I don't have a lot of faith in permanence in terms of marriage."
When Jolie was appointed a Goodwill Ambassador for the United Nations High Commissioner for Refugees a couple of years ago, eyebrows were raised. But she's committed to working for the U.N. "She takes it very seriously," says De Bont.
"Going to Cambodia to film the first 'Lara Croft' had a big impact on me," Jolie says. "It was the first time I realized that when I was raised and went to school, I was not taught about other peoples and what they'd really gone through. I try to educate myself every day about what's going on."
Of her home in Cambodia, Jolie says, "It's a beautiful, honest place. I love my neighbors -- these amazing people who've survived so much. A lot of land-mine victims and people who've been refugees. There's much to be done in those countries. I like being somewhere I can do a lot. We can build bridges together, protect animals. Get our hands dirty doing something. Cambodia is my son's country, and I want to make it better."
Date 7/10/2003
source ABCNEWS
In an exclusive interview airing Friday at 10 p.m. on 20/20, Angelina Jolie talks openly with Barbara Walters about her brief, but intense, marriage to Billy Bob Thornton, her rift with her dad, Jon Voight, her adopted Cambodian son, and her upcoming sequel to the Lara Croft Tomb Raider blockbuster.
Jolie Uninterrupted:
---She had his name tattooed on her body and carried a sample of his blood as a love token, but now Angelina Jolie says her ex-husband, actor Billy Bob Thornton, is a virtual stranger. ---
"We changed a lot in the two years we were married. I thought he was amazing. And, now I just feel like I don't know him," the actress tells ABCNEWS' Barbara Walters in an exclusive hourlong interview airing this Friday at 10 p.m. on 20/20. Jolie was 24 in 2000 when she married Thornton, who was 44. Their marriage may have been brief, but, if nothing else, it was intense.
They were known for their eccentric behavior in public. Thornton told the press they wore each other's underwear, and Jolie tattooed Thornton's name on her arm — and in a more discreet area of her body.
Jolie, who won a best supporting actress Oscar for Girl, Interrupted, talks with Walters about why she and Thornton carried samples of each other's blood as tokens of affection.
"It's not that crazy," the actress says. "It's like if you think about when you were like in high school. You know, it wasn't vials of blood; they were things that you put flowers in, pressed flowers in. … It was a Christmas present from me to him … a spot of blood in each pressed flower thing. It wasn't a vial, and it was a romantic thing you do, that was symbolic."
After the couple split, Thornton reportedly burned the blood samples in what he referred to as a "marital coffin."
Jolie tells Walters that she and Thornton are no longer friends. "It's like we just changed, we became very different people, and I wouldn't know what to talk to him about."
During the interview, Jolie also talks about dating and marriage. "I think I'll never get married again. I don't want to have a temporary father for my son," she tells Walters.
On Her Turbulent Relationship With Her Father
In the revealing interview, Jolie also discusses her highly publicized rift with her dad, actor Jon Voight. Last summer, just after her breakup with Thornton, Voight appeared on Access Hollywood, claiming his daughter needed help with what he called her serious emotional problems.
"You know, it's not a secret with my father because he was outspoken publicly about what he thinks about me," Jolie tells Walters. "And, he thinks a lot of very harsh things about me, which weren't a surprise to me, because I've heard them most of my life, but were a surprise that he decided to say them."
Jolie tells Walters she has no idea why her dad would say such things about her publicly. "I've been crazy in my life, and I've been wild in my life, I've never been a bad person. I've never intentionally hurt other people just to hurt them. And I'm trying to do a lot of good things with my life."
From Bisexuality to Knives to Motherhood
In Friday night's broadcast, Jolie also speaks candidly to Walters about her love affair with a woman, her fascination with knives and tattoos, raising Maddox, the son she adopted from Cambodia, and the upcoming sequel to the movie Lara Croft, Tomb Raider.

Date 6/24/2003
source: MSN Entertainment News

Angelina Re-enters the "Tomb"
Angelina Jolie will be sporting a new look this summer in "Lara Croft: Tomb Raider: The Cradle of Life" -- and throngs of drooling fans will undoubtedly thank her kindly.
Those aerobic shorts that Jolie herself despised are gonzo, replaced by a sleek fashion statement that includes a silver-toned skin-tight rubber dominatrix get-up. Perhaps she had to crack a whip or two, since rumors claim there were tensions on-set. The Evening Standard reports that while director Jan de Bont is desperate for a box-office hit, a chill developed between the two over the notion that he worked the crew too hard.
Producer Lloyd Levin says of the film: "We're raising the stakes significantly with the sequel ... Lara's taking us on a wildly ambitious journey this time and I'm especially looking forward to watching Angelina rise to the challenge." Indeed. The sultry star is once again doing many of her own stunts, including riding a horse side-saddle, rappelling face-forward down a cliff, and riding motorcycles and Jet Skis.
"I'd never ridden a Jet Ski," she told Entertainment Tonight. "And I had a lot of practice, [but the producers] always make it more complicated ... We started [shooting] in Greece, which was great, except I hate water and I hate bikinis. So we started this film with my worst possible day as an actress -- which is me Jet Skiing in a bikini in the water in Greece." I told you fans would thank her kindly!
Date: 06/14/2003
The TR2 Truck is on tour. Here are the dates and locations.
DETROIT

July 2-6
Comerica Test Fest
DALLAS
July 18-20
Taste of Dallas
NORTHERN NEW JERSEY/NY METRO
July 26-27
Rexplex Sports Complex (Elizabeth, NJ)
CHICAGO
July 30-August 4
Tall Ships in Chicago
LOS ANGELES
TBD
SAN FRANCISCO
TBD
Date: 01/12/2003
Many fans are getting disgruntled with the available clips and photos from the set of the newest movie. Currently, there is much discussion over the pictures of Jolie with brown boots, beige outfit, and the occasional gold jacket. This, in addition to a new hairstyle, has fans wondering what happened to their Lara. Only time will tell. Here are some pics of said outfit: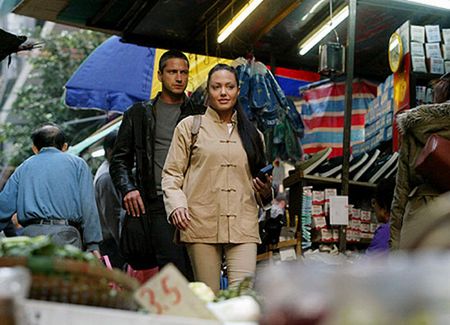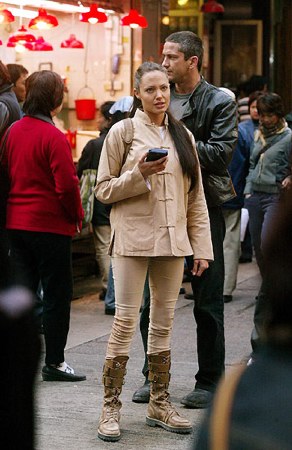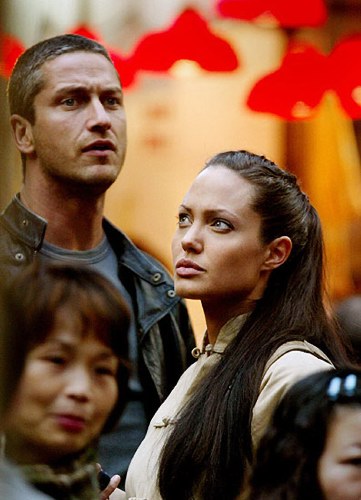 Date: 06/12/2002 (source: www.imdb.com )
Jolie takes new baby on Tomb Raider shoot.
Angelina Jolie is taking her new adopted baby with her when she sets off to film the new Tomb Raider movie. The curvy actress will be away for two months filming Lara Croft and the Cradle of Life, and only agreed to the movie on the condition producers provided special daycare facilities for nine-month-old, Cambodian-born Maddox. However, it is still not clear where the shoot will take place; producers are currently negotiating with the Chinese government to film there. An insider says, "It's extremely difficult to get permission for westerners to make films in China, but we're hopeful that they may agree. It would be a real coup."
Lara Croft Tomb Raider - The Cradle of Life
27 in x 40 in
Buy This Double-sided poster At AllPosters.com